Home Buyers & Agents - Negotiate The Best Price
Buy Real Estate...
OpenOffer® is the best way of achieving the best possible price for your new home. At OpenOffer® we practice a simple rule - The value of any real estate, is what a viable home buyer is willing to pay for it! As a home buyer, set up non binding OpenOffers™ on as many properties as you wish. This ensures that you do not miss any great buys.
Placing an Offer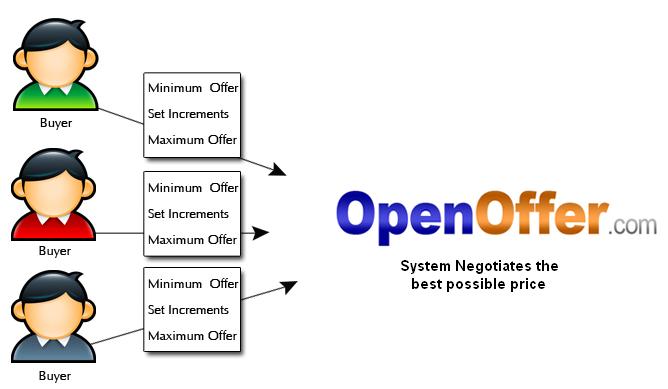 Just follow these simple steps:
1. Register for FREE.

2. Find Homes that interest you.

3. Make open offers with the following information:

"Minimum OpenOffer®": Your lowest starting price
"Increments": Percentage that your offer increases, in case a competing Home Buyer places a higher offer.
"Maximum OpenOffer®": The maximum amount that you are willing to pay for the property

4. Allow 24-48 hours for response to your offer. If you don't hear anything, simply move to the next property that you are interested in.

5. Receive an email alert with the result & consummate the transaction off line. (remember, you are not obligated to buy but agents can "block" you from placing offers).
How does OpenOffer® negotiate the best possible price?
Your offer information is confidential. Home Buyers, Sellers, Real Estate Agents or just visitors will not see your offer criteria.
Negotiating against other Home Buyers - Once you set up your offer, our system will monitor the property & will increment (percentage or amount you set up) your minimum offer, ONLY if another Home Buyer is placing an offer.
Negotiating with Real Estate Agents - In addition, the agent that is displayed on the property will be able to counter, reject, delete or accept your offer. You can perform the same actions as well.
When will you know that your offer was accepted?
It is clear to us that only motivated sellers will reply back. If you do not hear back from the agent within 24-48 hours, then you can assume that the seller is not motivated enough by your offer. It will be your decision whether to continue waiting, delete the offer and move on to the next property that you are interested in, or increase your offer on the subject property.

When you receive the "Accepted Offer" notification in your account, it will be your responsibility to exchange information through our system with the agent. Remember, we do not provide your information. You then can schedule a time and place with the agent to form a written offer and not like the traditional offer you will only place ONE written Offer with no last minute price surprises!
Things to Remember
As a Home Buyer your Registration is FREE,
All open offers are confidential and non-binding. The seller or seller's agent will not be able to see your information.
We never ask for Credit Card or Bank Account information.
Only place reasonable open offers if agents block you, you will not be able to place additional offers.
If you do not receive a response to your offer, reconsider raising it, or simply delete it
If you have any questions or concerns, call or email OpenOffer® directly
For more information please go to Buyer FAQ or Buyer Benefits.
Offer Stats
Real Estate Type
Today
Y-Day
Dream Estates
0
0
Condos
0
0
Homes
0
0
Lot / Land
0
0
2-4 Units
0
0
As of 05/31/23 4:27 pm PDT